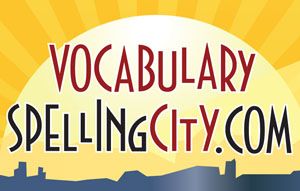 We've used SpellingCity.com for many years to provide some fun to my kids' spelling review. It's only been in the last year that we started using the premium side of their website, Vocabulary SpellingCITY.com to do the same for their vocabulary review. I appreciate websites that are well done and combine an element of games with learning. VocabularySpellingCity.com does just that. They enhance the learning process for vocabulary, spelling, writing, parts of speech, and alphabetizing.
While the SpellingCity.com website by itself is free, the premium membership, VocabularlySpellingCity.com has an annual subscription rate of $29.99 per family and can be customized for up to five kids.
I really  appreciate being able to create my own lists for my kids and use those in whichever way I need to for their learning needs. Here's an example of a vocabulary test:
There are a variety of game options available like this matching game:
And with each of these options I can have my kids sit down at the computer to complete them, or I can print them off for use at another time (or place) – I love that option! There are a lot of free options available, but the premium options are even better. You can see a list of what's offered on both sides (free and premium) right here. I also just now discovered the Vocabulary Spelling City app and am in the process of downloading it for my iPhone. Even better! Vocab review on the go!
All things considered, I find this to be a very handy supplemental tool to our homeschool days and I'm glad to have access to it for another year.
Be sure to check out what the rest of the TOS Homeschool Crew had to say about VocabularySpellingCity.com right here!
Disclaimer: The product was provided for the purpose of review. No other compensation was received. All thoughts are my own. I keep a proper disclosure statement available here.