Amy Puetz of
Golden Prairie Press
has a series of really great eBooks available and the one I'm particularly interested in at the moment is
Costumes with Character
and
Costumes with Character Printed Patterns
.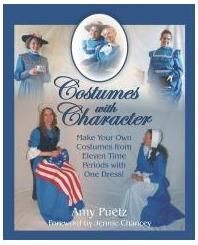 More than just a history book, Costumes with Character shows how to take one basic pattern and make eleven different dresses from eleven various time periods throughout American history out of it. Though the pattern was designed with a young adult in mind, it can be adapted to use with younger girls which is definitely our plan since my girls are 13, 12, 10, and 8! The time periods covered include:
Colonial (Pilgrim & Puritan 1620-1700)
Quaker (1681-1860)
American Revolution (1775-1783)
Young Republic (1800-1820)
Romantic Era (1820-1848)
Pioneer (1800s)
Civil War (1861-1865)
Sailor (1865-1905)
Victorian 1880s
Victorian 1890s
Turn of the Century (1900-1910)
Tea Party
Here's a picture of one of the pieces with detailed instructions:
I felt like the details were sufficient and really appreciated the illustrated instructions. Some of us visual learners need more than just words – we need to SEE it! I love having this resource on hand because there are multiple times somebody in this house needs an emergency time-period costume. I've never really been 100% pleased with the cheap costumes that various costume websites sell, but most costume patterns involve a lot more effort than I tend to have time or money for. Not to mention I usually don't have those patterns on hand at 9:30 on a Thursday evening, you know what I'm saying? With the Costumes with Character book in my stash, I'm capable of pulling a decent costume out in a few hours without having to run to the store. That may not be your case if you don't have a fabric hoarding problem like I do significant fabric stash.
Costumes with Character is 72 pages long and is $21.95. Costumes with Character Printed Patterns is $15 and features adjustable pattern pieces to go with all of the mentioned costumes from the book.
You can view the table of contents and sample pages for Costumes with Character and also purchase it as a printed book. And check out these pictures from the book:
Pretty fun stuff, and a pretty great resource to have on hand. Even if you aren't the sewing type, the history behind the costumes is fascinating to read about. If you ARE the sewing type, then the printed pattern pieces are definitely worth looking into as well!
Disclaimer: The product was provided for the purpose of review. No other compensation was received. All thoughts are my own. I keep a proper disclosure statement available here.