I've been a fan of What's in the Bible with Buck Denver from the very beginning. My family received a promo disc at a conference I attended a few years ago and we were sold on the spot. So when I was given the chance to get a regular DVD version of it (in a box and everything!) I jumped at the chance! Before I tell you why I love this (and all the other versions) so much, take a look at this first:

This series of DVDs combines the cleverness of the original Veggie Tales with history and truth – not just cute stories and analogies. It may be the seminary student that will always be inside of us, but in my estimation, this is kind of like seminary for kids.
Just like with everything else, you really should watch it with your kids, particularly the first time they watch it. I have a good friend who is uncomfortable with something that's presented in this DVD, but I'm really okay with everything in it. That doesn't mean her kids should NEVER see it, nor that I should never preview it with mine. I believe this series should provide a springboard from which to discuss your beliefs and worldview with your kids. Do you agree? Talk about it! Is there something you want to unpack a little differently? Then do so.
Having said all that, I just don't think it gets much better than Dr. Schniffenhousen, Clive and Ian, the Sunday School Lady, and the Fabulous Bentley Brothers. And I'll just come right out and say it – *I* also learned some biblical history from watching this volume and the others.
I. Love. What's. In. The. Bible. With. Buck. Denver.
You can get Volume 1 for $9.99 right here. While there, be sure to check out the whole website. It's jam packed full of video clips, downloads, and extra free resources that you don't want to miss!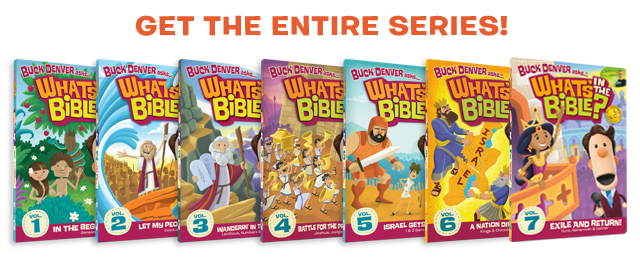 Disclosure: I was selected for participation in this review and given the What's in the bible DVD as a member of The Homeschool Lounge Review Team. All thoughts and opinions are my own. I keep a proper disclosure statement available here.