Perhaps one of the harder to implement aspects of a well-rounded education is that elusive P.E. class. Sure, sure, I know – we're homeschoolers. We have bikes. We have legs. We have jump ropes. We have playgrounds. We have P.E. But I've been around the block enough to know that kids LOVE organized physical activities. And sometimes it's just a little harder for me to come up with those in the P.E. department. Enter the Fitness 4 Home School Core 1 Curriculum K-8 program.
Designed with the homeschooling family in mind, the Fitness 4 Homeschool Curriculum "allows parents to teach physical education without previous knowledge of physical education and athletic development. Our program, designed by experts in fitness training, nutrition and body movement, is designed to suit every age and ability level while affordably fitting into your budget. Our program combines flexibility and fun with a comprehensive curriculum to give your children a foundation for strong bodies and minds."
I'm going to tell you the specific things I really like about the way this is put together, but first I wanted to show you the intro video as Family Time Fitness does a good job of explaining it themselves:
First of all, the plop value. What am I talking about? It's a downloadable pdf, so what is there to plop? Believe me, plenty. This thing is packed to the gills with strategy, plans, activities. It's awesome! Here's a small sample of one of the lesson plans:
There are 260 of these included! 260! Each lesson plan includes a list of supplies, a warm-up activity, a main activity, a cool down activity, and a suggested outdoor activity. If completed the way it is outlined, each lesson offers 30-45 minutes worth of exercise. Awesome!
I love how each instruction includes a link to a demonstration video. I mean, many things are fairly easy to figure out without that, but I can't tell you how many times I've done an exercise the wrong way and didn't know it until much later. I love to have a visual right there waiting for me, particularly when one of my kids says, "huh?" and I have to demonstrate. Ahem. My 12yo was gracious enough to let me snap some photos of her in action. I don't know if you can tell, but she's really working up a sweat. We were all surprised by how challenging some of these activities really are!
The complete program costs $57 which, when you consider how robust it is, seems really reasonable to me! I've paid for homeschool P.E. classes before and I have a pretty good idea of just what a value this really is. You can also check it out with this two day free trial right here.
So there you have it! Family Time Fitness – high fives all the way around at the Half-Pint House!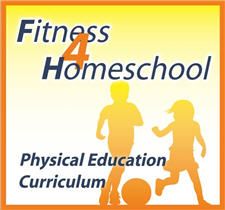 Be sure to check out what the rest of the TOS Homeschool Crew had to say about Family Time Fitness right here!
Disclaimer: The product was provided for the purpose of review. No other compensation was received. All thoughts are my own. I keep a proper disclosure statement available here.