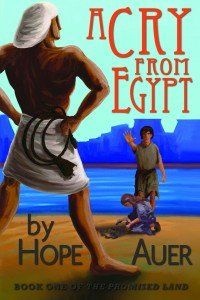 A Cry From Egypt is the first book in The Promised Land Series written by Hope Auer and illustrated by Mike Slaton. The book weighs in at a meaty 176 pages and is being published by Raising Real Men. It's in the genre of biblical historical fiction and the target age level for this series is 8 and up. That's why I handed the book straight over to my 8yo as soon as it arrived!
Millie loves it when a new book arrives and I hand it over to HER. She's daughter #4 and usually has to wait her sweet turn for a chance at the good reading material around here. This one was all hers and in her own words, "I really like this book!"
There you have it. *grin*
Here's the official blurb taken from the book's website:
"Girls, get back!" Ezra shouted. 

His face was pale, but his eyes kindled with indignation as he stood in front of the girls protectively. Ezra dropped the pitchers in the sand and his hand ashed to a dagger, concealed under his tunic. Jarah's eyes grew wide. He could be killed for carrying a dagger!

Jarah was a slave in Egypt. It was a dangerous place to be. Her work was exhausting and her family was torn between the gods of the Egyptians and the God of Abraham, Isaac, and Jacob. And her brother… would his Ada be given in marriage to an Egyptian in the palace? Would they ever be free?
Just like the title implies, the book is set in ancient Egypt during the time of Israelite captivity when Moses was sent to free the people. It provides an interesting perspective of what it might have been like to have been alive during that time and does so in such a way as to hold an 8yo's attention. That is no small feat!
I will definitely be on the look out for future books from this new author as for some crazy reason I can't seem to stop Millie from reading!
You can find advance reader copies for $12.50 right here.
Be sure to check out what the rest of the TOS Homeschool Crew had to say about this new work and other books from Raising Real Men right here.
Disclaimer: The product was provided for the purpose of review. No other compensation was received. All thoughts are my own. I keep a proper disclosure statement available here.