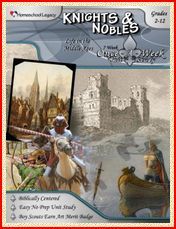 I've always loved the idea of unit studies, and I'm creative and enjoy hands-on activities. But for some reason those things never manage to collide in our homeschooling. Unit studies and I just generally don't agree. Homeschool Legacy seems to have a pulse on the parent like me, thus they created their Once-A-Week Unit Studies. With their system, we benefit from having the work done for us, but we also don't have to stop everything else we've planned in order to implement the unit study. After all, the unit study is done…once-a-week! Brilliant.
We received the Knights and Nobles unit study to review and I was super excited to get it. In our course of educating our kids classically, our girls cover the medieval period during their third grade year. Katie did this last year and Millie is in process now. This particular unit study provides the opportunity for kids to earn merit badges along the way. That's not a feature we needed, but if any of my girls did participate in American Heritage Girls (or if you have Boy Scouts in your family), that's a great added bonus! The other big bonus is the suggested reading list with accompanying library numbers so you can find the section in question quickly and easily. It's important to note that not all of the books listed may be available in your particular library, but if you go to that section, you should be able to find other books from the same time period that will work just as well.
I really love the included list of suggested books – a different list for each week – and I love that some movie options are also included. Some of the movies can even be found on Netflix! Here's the list from week 3:
What a great list! And many of the included suggested activities are ones that can be tweaked to either up the ante on the amount of messy involvement, or lower it by looking at things on the internet. For example, one of the suggested activities involves touring a local church to examine their stained glass windows. While we could have done that fairly easily when we lived in St. Louis, we find it a little harder to come by here in Oklahoma City. Not impossible, but harder to just go in and examine. So we opt for the internet option on that one to view really ornate windows in famous churches and cathedrals. And then we make one out of construction paper and tissue paper – that wasn't on the list of things to do, but one of the things we enjoy and could do easily with supplies we had on hand. All inspired by the section on stained glass!
And my 12yo needs no additional encouragement to play chess – she loves that game! What made that activity even better was the addition of the history behind the game and the meaning of the various pieces. I don't think we've ever talked about that before!
So what have I left out? Books, activities, games, trivia, field trips, writing exercises and much more. This 4 week unit study really packs a big punch, but it does so in a way that is manageable with a very full school load. It can be tailored for use between 2nd-12th grades and is available for purchase for $15.95. If you order a minimum of $50 worth of books, the shipping is free.
Be sure to check out what the rest of the TOS Homeschool Crew had to say about this and the other Once-A-Week Unit Studies right here.
Disclaimer: The product was provided for the purpose of review. No other compensation was received. All thoughts are my own. I keep a proper disclosure statement available here.