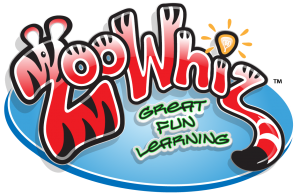 It doesn't take much to convince kids to play online games. The real trick is usually helping them determine WHICH games are really worthy of their time. And with there being so many sites dedicated to taking up our kids' time, I'm always glad to find ones that really do provide real educational value. Zoo Whiz is designed for just that purpose. Content areas include reading practice, math, grammar, vocabulary, and word skills. While the child is doing the learning activities she is simultaneously earning points to be redeemed by either playing games in the arcade, or purchasing animals for their personal zoos.
The website has kids between the ages of 5-15 in mind. I had our premium account set up for my 10yo, Katie. I'll let you in on a little secret, though: her other sisters were also interested in checking the site out too. Her other sisters are 9, 12, and 13. So it's safe to say that you really can tailor the activities to appropriate levels for each child. I was primarily interested in checking out the reading practice aspect of the site for Katie and I set her level to 8-10.
PS: We keep wondering why we have "Joseph W" at the top of Katie's account, but ah, well, that's okay… The point of this section is really to help kids improve in reading comprehension and also phoneme awareness. Great reading skills that need to be developed. Some of my kids flew through these sections a little more easily than others. I'm glad for the challenge and encouragement here. The Australian words of encouragement were pretty funny to listen to as well. Sometimes when she would get one right she'd hear, "Crackerjack!" Ha. And of course I'm thinking of caramel-coated popcorn and a little penny prize.
After spending time on the learning activities, points and coins are added to her account. From there she was able to play some really fun games. Don't ask me how I know they were fun. *cough* Okay, I may have played them a couple of times too… But that's what would make this appealing to an older student who may need some extra help in these areas – the learning areas are necessary for reinforcement, but the games are actually pretty fun and challenging for older kids as well. Just ask my 12yo. *grin*
I wasn't at all surprised to see that Katie had spent most of her earnings in the zoo area instead of the arcade – personal preference and totally Katie. Here's a glimpse into her zoo collection:
So sweet and so totally my girl.
ZooWhiz can be played for free, but it doesn't provide access at the level of the premium account. A premium membership is $19.95/child per year. For all the content areas we have access to, I think this is a pretty fair value and I think my kids will choose to go back on their own during their computer free time even if I don't require it of them.
Be sure to check out what the rest of the TOS Homeschool Crew had to say about ZooWhiz right here!
Disclaimer: The product was provided for the purpose of review. No other compensation was received. All thoughts are my own. I keep a proper disclosure statement available here.