I am a member of the TOS Homeschool Review Crew. The focus of this post is to highlight an educational resource that my family received for free for the purpose of review. No other compensation was received and all thoughts contained in the post are my own. I keep a proper disclosure statement available here.
The original McGuffey readers hit the market around the mid-19th century. Wowza, that's a long time!  Considering the longevity of the system, it's no wonder parents and teachers have trusted the phonetic approach for years and years.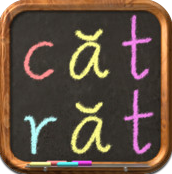 Now, then, we have advanced as a society in technology, but the basics of how we learn (and what we should learn) really haven't changed. As such, LiteracySoft has taken the McGuffey system and developed The Phonics and Reading with McGuffey App for the iPad and other mobile devices.
The $19.99 app includes the following components:
• All 52 McGuffey Primer lessons
• All 44 letter sounds of English and their graphemes
• 60+ letter sound animations
• 400+ practice word vocabulary
• 9000+ nonsense word audio dictionary
Because of the nature of the approach, this program is good for a wide range of learning abilities including adult learners, dyslexic students, and non-native English speaking learners. I used the app with A4, the older of our two foster boys right now. His attention span for such things is fairly limited, but we were able to go with it in ten minute segments. He really enjoyed the iPad aspect because it felt like a game to him, but it was obvious to me that it was work for him.
My only real critique with the program came with some of the graphics. It was clear in some of the lessons that the picture matched the sound (a = apple) but then we'd get to a page where the picture was just there for a visual reward and was completely disconnected from the letter we were working on. A4 got tripped up by that every single time and I couldn't do anything to convince him to not try to associate the picture with the sound on those screens.
Apart from that, I was happy with the app and particularly that it can be used repeatedly with multiple children. Because of the nature of the type of foster care we do, we have the potential to see a lot of preschoolers come through our home and this will be a fun way to do some learning with them while they are here with us.
I know it's an expensive app, but comparative to hard copy reading programs out on the market, it's really a pretty good deal. You can check out the first 10 lessons for free as well as download a free coloring book here.
Be sure to check out what the rest of the TOS Homeschool Crew had to say about Phonics and Reading with McGuffey App right here!